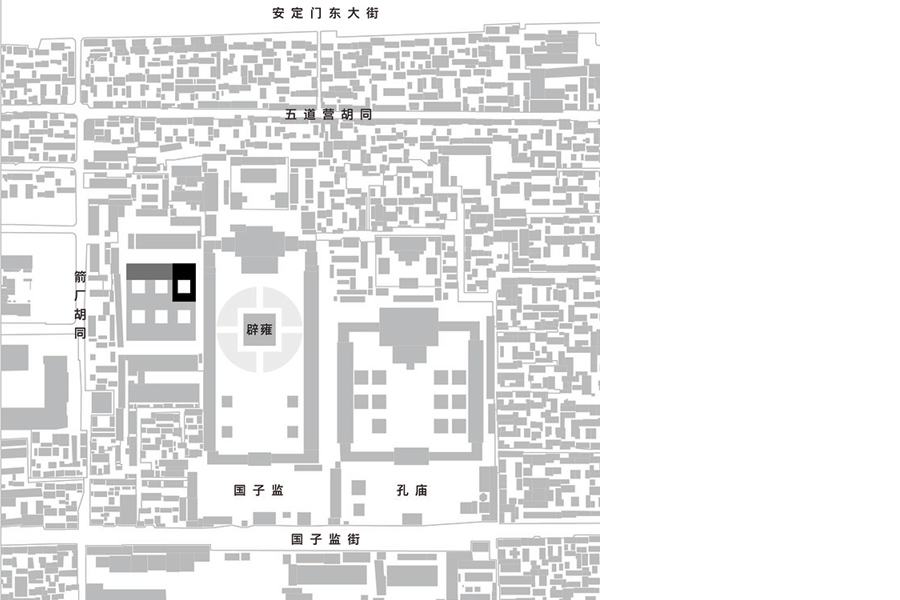 Arrow Factory Media&Culture Creative Space
Hutong Factory Renovation
The Arrow Factory Hutong Media & Culture Creative Space is symbolically right next to the wall of the Imperial Academy heritage. The site is one the so called"arrow factory"- old warehouses with immense space inside, and the ground floor has already been devided and enclosed as a"Siheyuan" type courtyard, due to the previous hutong re-development. This project is a regeneration-by-intervention, starting from the existing spatial framework, yet aiming at transforming it from a vast empty warehouse to a space that filled with unleashed vitality, for crowds of people from creative cultural industry to gather around and communicate. It will not only offer diverse programs such as: meeting, screening, library, bar, entertainment, co-working…but also become a"collaborative commune"of those who are interested in the innovation of media and culture.
Following the old wall of Imperial Academy mottled by hundreds of years of history, the first space you enter is a proper-scaled"siheyuan", reception and meeting rooms unfold around it. If you take the stairway to the deck above, you can actually see the "Biyong"- the golden-roofed palace hall where the emperor used to give lectures to his students in the Imperial Academy - right in front of you eyes.
In order to fully exploit the height of the space, we added a mezzanine floor for extended program, and leave several voids connecting the double height space. Further more, we have inserted various wood attics (or boxes) into the space, in order to stimulate dynamic communication between the users.
If we simply follow the existing open but bland spatial framework, any"creative event"that happens within the huge space would have the danger of falling into a homogeneous setting and lost its focus, that's why numerous "wood attics" are introduced as enabling devices. Activities could now follow different trajectories, unfolding around or within those attics. Once you are inside those small enclosed spaces, you would find many interesting window openings, like view-finders, targeted at specific views, which would re-link different threads of spatial narrative, and therefore, enable the user to experience the un-expected scenarios and exchange their thoughts.
Each Attic has a specific program: display, meeting, library, entertainment, bar…presenting itself in an unique and vivid form. Not only to just express them, each of these exquisite objects also evolves as an enabling device, or a switch that can turn on a tangible narrative experience. In the process of renovation, you may discover some interesting typology of intervention, yet at the end of the day, it all has to be combined with the usage of people.
| | |
| --- | --- |
| LOCATION | Arrow Factory Hutong,Beijing |
| DATE | August, 2014-December, 2014 |
| CLIENT | Private Client |
| PROGRAM | Office |
| AREA | 400m² |
| STATUS | Construction Completed |
| DESIGN TEAM | Shuo Wang, Jing Zhang, Yaping Wu |
| LIGHTING CONSULTANT | Xiaowei Han |
| PHOTOGRAPH | Su Chen, Chun Fang |