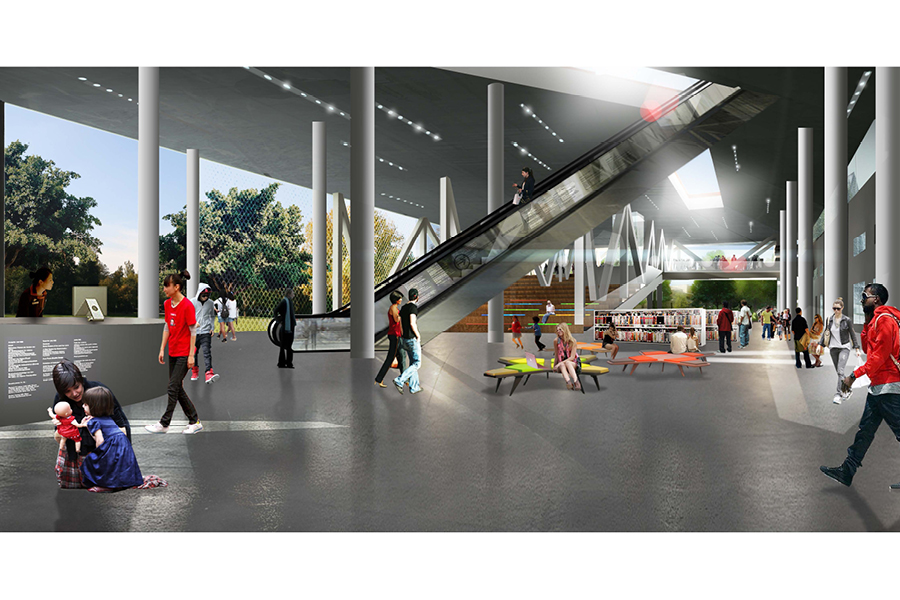 Jiading Science Exhibit Center
large-scale public project
This project is in collaboration with standardarchitecture.
The projectlocates in the Jiading New City, one of the most developed satellite cities of Shanghai, where a 4-kilometer long "central park" is planned right across the very core of the city. The site, which is a former plastic factory, will be revamped and altered to acomplex exhibition center that will host 4 independent functionswith vast public event space.
Site Strategy
The location and program entail that the building needs to become a center for activities in the main axis of the green belt. It is envisioned as an enhancer for connectivity, that instead of acting as a destination, it condenses activities and connects the building with the park, and with the public buildings in the surroundings.
Connectivity
The design takes into great consideration the building's openness and permeability to its immediate context. As a result the building is a permeable sequence of spaces with entrances on all sides and that visually and physically links the building with the open space surrounds it, and invite people to come from almost all directions. A series of multiple entrances and several stances of the building help to frame the surroundings making the building a unique experience for and within the park.
Building Programs
The current building program is the result of an integrated consideration of the urban context in which the building its situated. It will enhance the usability of the individual programs and add cohesion to the otherwise independent programs. These programs include: Planning Museum; Science Museum; Youth Center; Technical School; Public Auditorium and Offices; Public Café and Bookstore.
Green Design
The green architecture design is featured in the scheme. As an initiator for reclaiming farmland in the city, the current design offers 20 Chinese acre rice filed on top of the roof for real harvesting,at the same time it provides quite a lot of shaded open area under the roof. The roof is conceived as a continuation of the central green belt, and more than that, it open up more possibilities for people to enjoy the open space.
Existing Building Reuse
The reuse of the existing building is a base point of the project. For us, preservation and construction are in fact twin phenomena, not opposites. They could be part of a single planning process that integrate the space yet keep the history.