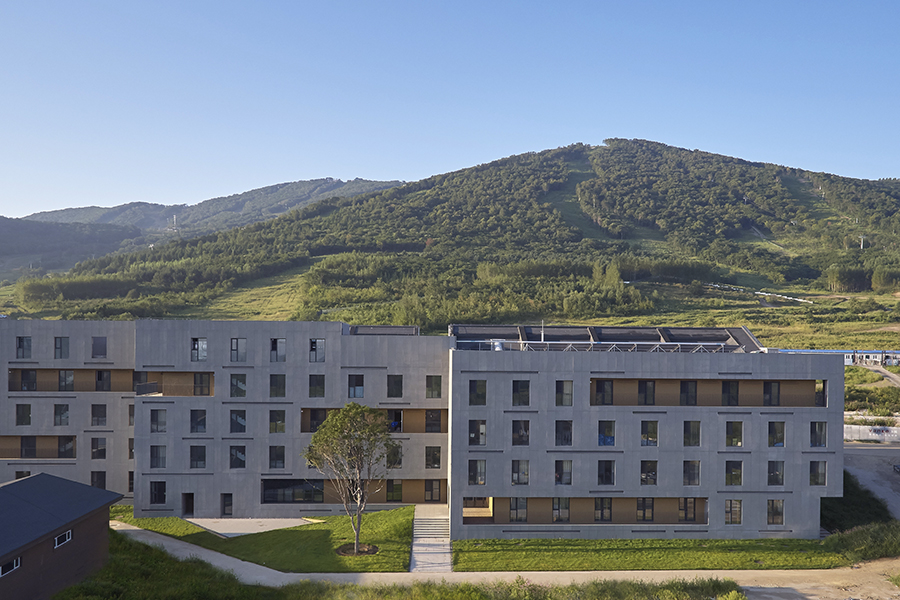 New Youth Commune
new collective living typology
New Youth Commune, a mixed youth community on the edge of Vanke Songhua Lake Resort bordering natural villages, contains 800 people with the upper space for Vanke staff, the middle rented to self-employed townspeople and the ground facilitating camping students and open to surrounding villagers.
Addressing the ant tribe problem, having investigated China's mixed dwelling phenomena from hutong, tube-shaped apartment to village-in-city and comprehended the inner dynamics of youth communities, the architect proposes a new spatial paradigm restructuring interpersonal relations in a gesellschaft.
The residential stereotype is mutated into a quartet, externally undulating and internally interlocked. Bridges, stairs and tiered seating around the full-height atriums compose an open-street-like route articulating various public spaces. A simple and flexible framework blends innovative spaces into daily lives, encouraging encounters among private, shared and collective zones and finally the community growth.
The project responds to the hybrid contemporaneity and proposes a new community symbiosis: mutual cooperation and positive environmental interaction through inter-spatial sharing based on equality – a prototype community.
The practice continues Meta-Hutong and Reset Apartment, an experiment series that analyze spontaneous evolution of urban space production and elicit a valid composite approach.
| | |
| --- | --- |
| Project Name | NEW YOUTH COMMUNE |
| LOCATION | Ji Lin,Songhua Lake |
| DATE | Design 2014/12;Complete 2015/12 |
| CLIENT | Vanke Songhua Lake Resort |
| PROGRAM | Mixed Residential Community |
| AREA | 10,000 sqm |
| STATUS | Construction Complete |
| DESIGN TEAM | Wang Shuo,Zhang Jing, Cao Shibiao, Lan Tian,Wu Yaping,Zhao Yu |
| LIGHTING CONSULTANT | Han Xiaowei |
| PHOTOGRAPH | Su Shengliang, Fang Chun, Chen Su, Cao Shibiao |