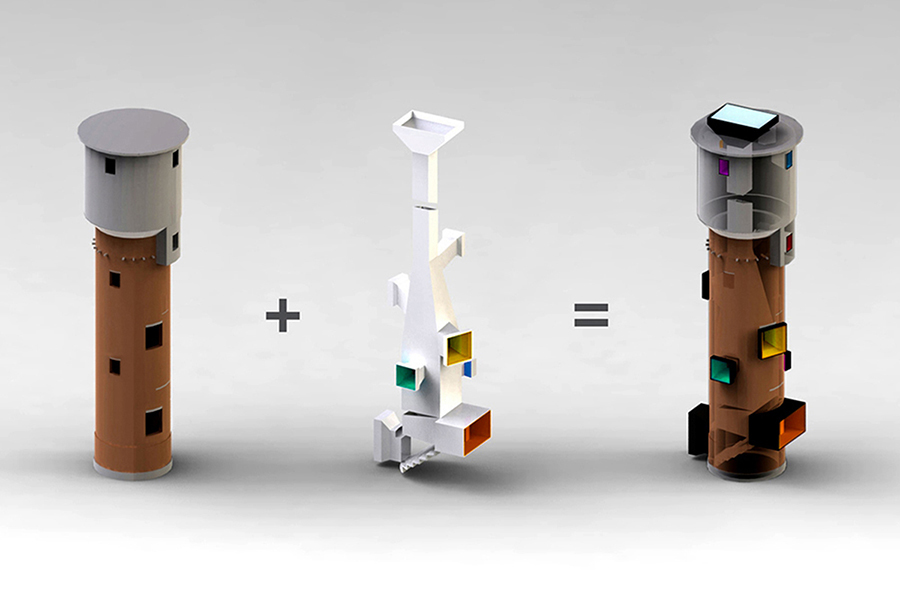 Water Tower Pavilion
industrial heritage reuse
This water tower is located in the campus of a run down military factory; the cautions with which specific renovation measurements are made demonstrate circumspection. They are positioned thoughtfully with the intent of embedding a new reality in a historical sample.

On one hand, we want to keep the original water tower intact, only allowing necessary structural reinforcement and minor treatment on the existing window openings; on the other hand, the new installation – quite an exquisite device – was inserted into the interior tunnel of the tower.

Two end-to-end funnels form the main part of the installation. While the smaller funnel on the top reflecting daylight into the lower parts of the tower, the bigger one shapes the space in the middle, giving it a seemingly endless depth, and is linked to many camera-lens-like window frames, which grow out of the tower body from every possible opening. On the bottom of the tower, theater steps are made to link the entrance and the view platform.
| | |
| --- | --- |
| LOCATION | Shen Yang |
| DATE | September, 2011 - December, 2012 |
| CLIENT | Vanke Shen Yang |
| PROGRAM | Museum, Mini Theater, Viewing Deck |
| AREA | 20m² |
| STATUS | Construction Complete |
| DESIGN TEAM | Shuo Wang, Jing Zhang, Qianqian Chang, Limiao Huang, Changyan, Lin, Heng Tang |
| STRUCTURE CONSULTANT | Lichuan Liu |
| LIGHTING CONSULTANT | Xiaowei Han |
| PHOTOGRAPH | Su Chen, Chun Fang |